HDMI/DVI to dual CAT5e/6 Cable Extender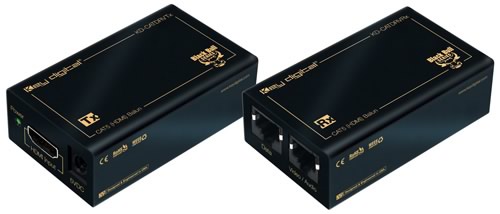 Downloads:
Compatible with:
General Info:
Regulation: CE, RoHS, WEEE
Rack Mount: Bracket (included)
Enclosure: Black Metal
Product Dimensions: L = 3.5" W = 1.75" H = 1"
Shipping Carton Dimensions: L = 7.5" W = 8.5" H = 2"
Product Weight: 0.6 lb
Shipping Weight: 1.5 lbs
Accessories: Mounting Bracket, Locking HDMI Cable Clip, UL Certified Power Supplies
* Key Digital® HDMI® product specifications are given using only Key Digital HDMI cables. Using any other cables can alter or prevent your Key Digital HDMI product from meeting the given features and benefits of our advanced line of HDMI products. HDMI Products using CAT5/6/7 cabling should be properly terminated and of high grade in order to maintain the best performance possible.
Where to Buy

Need to find a Key Digital distributor or a system integrator?

Call Sales at +1 914-667-9700 or

Need Help with System Design?

FREE Expert System Design Services for Key Digital Dealers & Resellers.

Let us help: +1 914-667-9700 or