4 Inputs to 4 Outputs HDBaseT/HDMI via Single CAT5e/6 Matrix Switcher, with built-in Compass Control, supports Ultra HD/4K. Includes 4 KD-CATHD250POHRx Receiver Extenders and 4 KD-IRE3501F IR emitters to control IR controllable devices.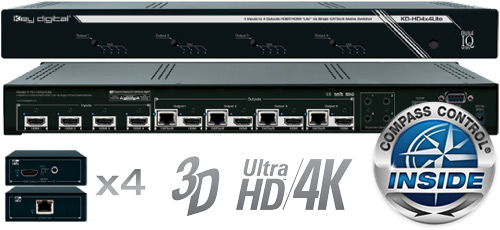 Key Features:
Simultaneously Active: 4 HDBaseT (CAT5e/6 RJ45) and 4 HDMI outputs with fully automatic CAT5e/6 cable equalization. Supports up to 8 TVs (4 mirrored)
Compass Control® Inside: Key Digital's Compass Control® control system is built-in, negating the need for an external master controller (supports up to 11 control ports)
HDBaseT: Utilized on CAT5e/6 RJ45 outputs
Signal Extension:

Up to 210 feet @ 1080p/60, 1080p/24, 1080i, 720p
Up to 120 feet @ 4K/Ultra HD with KD-CATHD250POHRx extenders and approved Key Digital CAT5e/6 cabling

3D Ready: Capability to pass 3D stereoscopic signal formats
Ultra HD/4K: 4K x 2K video resolution support for Ultra HD capable TVs and commercial applications such as Digital Movie Theaters, CAD, Post Production
Audio Return Channel: Allows audio to be returned from a display to an HDMI output, for audio distribution (HDMI outputs only, using 3.5mm I/O port and 3.5mm to PCM cable)
Audio Return without ARC: Audio may be returned from a display lacking ARC, by using Key Digital's KD-IQJUMP12FM and KD-35MMAIRH jumper cables
EDID: Internal library with 15 default EDID configurations for each input, in addition to native EDID data for any Output/Display
Full Buffer™ Technology: Full buffering of HDCP and EDID, for fastest possible switching and viewing of any source/input to any display/output, regardless of multiple output viewing relation
TMDS re-clocking: Support for long HDBaseT/CAT5e/6 or HDMI connections and daisy chain configurations
Voltage Trigger/Sensors: I/O ports may be used as a voltage trigger in Compass Control system
Relay Support: 3.5mm I/O ports may be used as relays to support contact
closure/opening, when used with an external relay board
Lossless Compressed Digital Audio: Dolby® TrueHD, Dolby® Digital Plus and DTS™-HD Master Audio
Licensing: Fully licensed and compatible with HDMI up to 4KUHD/60Fps and HDCP 1.0 to HDCP 1.4 technologies. For HDCP 2.2 sources use KD-HDFIX22 in conjunction with this product.
Deep Color Support: Up to 12 bits/color Specifications
Control Routing: Enables bi-directional IR/RS-232 control signal extension
Control: Front panel push buttons and LEDs, TCP/IP, USB Port, Optical IR front/rear, Serial IR, RS-232 with full bi-directional operation
Major Control System Support: Compass Control®, AMX®, Control4®, Crestron®, KNX®, RTI®, Savant, URC®, Honeywell®, HAI®, Leviton®, etc.
Downloads:
Product Videos:
Compatible with:
General Info:
Power Supply: +6V/11.6A (70W)
Rack Mount: 2U, Full Rack Width (rack ears included)
Accessories: IR Remote Control, 8 HDMI Cable Clips, 6 ft. USB Data Cable
Regulation: CE, RoHS, WEEE
Enclosure: Black Metal
Product: 17.13" x 5.5" x 1.75", Weight: 5.5 lbs.
Packaging: 21.4" x 9" x 6.9", Weight: 12.1 lbs.
Where to Buy

Need to find a Key Digital distributor or system integrator? Product feature or integration questions?

Call us at +1 914-667-9700 or

System Design Questions

Key Digital offers FREE Expert System Design Services for our Dealers and Resellers.

Call us at +1 914-667-9700 or